Liverpool St treatment centre opens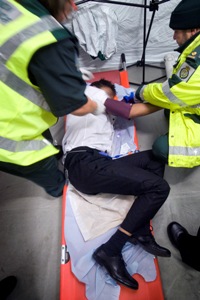 In an effort to tackle the festive increase in demand posed by alcohol-related 999 calls, the London Ambulance Service will launch a treatment centre at Liverpool St train station tonight (Friday 3 December).
The joint initiative with St John Ambulance will provide a field hospital for people who've had too much to drink in and around the City in the run up to Christmas.
In a move away from previous years, the centre will be housed on board a St John Ambulance coach with beds for three patients.  A covered area next to the coach will provide an additional area to treat patients as well as two extra beds.
Duty Station Officer Nick Lesslar said: "In the run up to Christmas we see more and more patients who need our help because they've had too much to drink. People who are heading out to enjoy themselves should eat before drinking, take on plenty of water and make sure they know how they'll be getting home.
"Often the patients we see need time to sober up and that's where the treatment centre can help – it means we can keep people who've overdone it away from A&E departments and keep ambulances free for life-threatening emergencies."
Last year, when the treatment centre was in a specially-erected tent, staff treated a total of 183 patients, with half of them not needing a visit to A&E.
Terry Wing, Assistant Staff Officer at St John Ambulance London, said: 'We are proud to be supporting the hard work of the London Ambulance Service and play our part in making a difference to the lives of those in the city and to the demand on hospital staff.
'This initiative really helps to divert a high volume of alcohol fuelled injuries, which inevitably occur this time each year, away from hospital beds and home safely, leaving them for someone who might really need one.'
– Ends –
Notes to editors
To arrange an observational shift, or for further information about the London Ambulance Service or this news release please contact the communications department on 020 7783 2286.
Follow us on Twitter at www.twitter.com/ldn_ambulance