London Ambulance Service faces snow pressure
Emergency calls to the London Ambulance Service rose by 18 per cent on the previous Tuesday, as snow hit parts of the capital yesterday (30 November).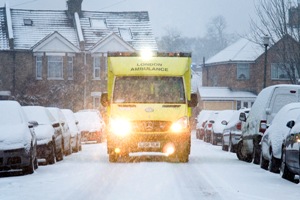 And during peak hours, demand on the Service's 999 control room rose by well over 50 per cent during as Londoners struggled in the cold, icy conditions. Staff in the control room usually expect to answer about 200 emergency calls an hour, but at the busiest times yesterday they were dealing with well over 300.
The Service handled a total of 4476 emergency calls, compared to 3793 on Tuesday 23 November.
With the wintry weather set to continue, Londoners are being urged to take care. Snow and ice can lead to an increase in slips, trips and falls on icy pavements, while the cold can also make existing conditions such as asthma worse.
Deputy Director of Operations Jason Killens said: "We are continuing to prepare as well we can for what might happen with the weather, but we would also ask Londoners to help us by using the 999 system wisely.
"There are a number of common sense things people can do to look after themselves so they don't have to call us. If you're going out wrap up warm, make sure you've got a well-stocked medicine cabinet at home and take care if you're driving or walking on slippery pavements.
 "Anyone with a genuine emergency should call us immediately, but those with more minor injuries should consider other healthcare options, such as calling NHS Direct on 0845 46 47 for advice, or going to a local pharmacist or NHS walk-in centre.
"Anyone who thinks that they need to go hospital for non-emergency treatment should also consider making their own way there – going in an ambulance does not mean that they will be seen any more quickly."
A programme to fit the Service's fleet of ambulances and response cars with winter tyres has almost been completed, and other contingency plans have been put into place to help get staff to work.
– Ends –
Notes to editors
For further information about the London Ambulance Service or this news release please contact the communications department on 020 7783 2286.
Follow us on Twitter at www.twitter.com/ldn_ambulance