Ambulance crews gear up for a busy festive period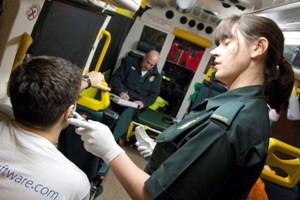 With Christmas just weeks away the London Ambulance Service is getting ready for a festive increase in demand.
Ambulance staff across the capital are expecting to be busier than ever this year, mainly because of a seasonal rise in alcohol-related 999 calls. The Service deals with 164 alcohol-related incidents every single day – a figure that is likely to increase this Christmas.
Deputy Director of Operations Jason Killens said: "This time of year is always very busy for us so I'd urge people to do all they can to look after themselves and make sure they stay safe.
"People should wrap up warm if they're out and about, make sure they have a well-stocked medical cabinet at home, and if they're planning on enjoying a few drinks they should try to do it responsibly. Nobody should end up needing an ambulance at the end of the night because they've simply drunk too much alcohol."
In an effort to tackle alcohol-related 999 calls and look after patients who overdo it this Christmas, the Service is running a number of initiatives:
An alcohol recovery centre is operating in the West End. It will provide a better option than A&E departments for patients who are picked up by the alternative response vehicles or "booze buses". If they are simply suffering from drinking too much alcohol, patients will be taken to the centre where they will get first-class medical care from our staff while they sober up.
Our staff will be working closely with colleagues from St John Ambulance at Liverpool Street train station, where a treatment centre will run on Thursday, Friday and Saturday nights. Designed to relieve pressure on hospitals in east London, the centre will provide care for patients who have partied too hard in and around the City.
We will also be running our fleet of alternative response vehicles, or "booze buses", in central London and Camden. They can carry up to five patients at any one time, potentially saving five frontline ambulance journeys for every trip they make.
Jason added: "The schemes we're running across the capital mean patients will get the most appropriate care while we're able to keep ambulance crews free to deal with life-threatening emergencies.
"Whenever our staff are tied up dealing with somebody who's had too much to drink, it means they are unable to look after and help somebody who's seriously ill or injured – for example somebody who's in cardiac arrest or who's been involved in a serious accident."
While our staff will be doing all they can to ensure the Service is able to cope with an increased demand this Christmas and New Year, there are a number of things that people can do to help themselves:
Eat before drinking to help soak up alcohol.
Have the odd soft drink to keep hydrated.
Plan your journey home and don't leave it to chance – think about how you're going to get home, and who with, before you go out.
Keep an eye on your friends and make sure that no one gets left behind, as these are the people who we are often called out to help.
Last year the Service dealt with 60,686 alcohol-related incidents, which accounts for six per cent of our total workload. 
– Ends –
Notes to editors
The alcohol recovery centre in the West End will operate on Friday and Saturday nights, and during the week in the run up to Christmas and New Year.
Up to three 'booze buses' will be running in the West End and one in Camden.
The treatment centre at Liverpool St train station will be housed in a mobile St John Ambulance vehicle. It will operate on Thursdays, Fridays and Saturdays between 3pm and 3am.
Watch our new 'booze bus' video at www.londonambulance.nhs.uk/alcohol
Follow us on Twitter at www.twitter.com/ldn_ambulance