Response car targeted in Hillingdon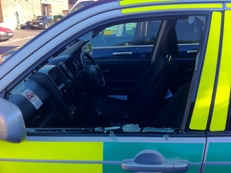 A charity-owned emergency response car is off the road after a window was smashed and uniforms were taken.
The emergency vehicle is used by volunteers for the First Response charity scheme – where unpaid volunteers from HM forces and people from local communities respond to patients in a life-threatening condition in their area.
The emergency response car was parked in Hillingdon ambulance station, Royal Lane, when it was targeted between 1am and 7am on Wednesday 20 October.
When London Ambulance Service staff arrived later in the morning they discovered the passenger window had been smashed and the blue light stolen from inside, as well as several items of ambulance uniform.
Ambulance Operations Manager for Hillingdon Adam Crosby said: "It's a very sorry situation that someone would stoop so low as to steal from an ambulance – especially one run by volunteers who give up their free time to help save lives in Hillingdon.
"This vehicle will now be off the road for a considerable time while it's repaired, at a great cost to the charity."
If you have any information that could help the police please call 020 8246 2108 or Crimestoppers anonymously on 0800 555 111.
– Ends –
Notes to editors:
For further information about the London Ambulance Service or this news release please contact the communications department on 020 7783 2286.
Follow us on Twitter at www.twitter.com/ldn_ambulance