Five-minute lifesaving lessons launch at Heathrow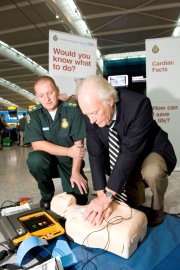 Passengers travelling through Heathrow will now have the chance to learn lifesaving skills in five minutes from London Ambulance Service medics.
Using training mannequins, ambulance staff will teach members of the public what to do if they see someone suffering a cardiac arrest.
People will also be shown how to use a defibrillator, a machine that can deliver a shock to restart someone's heart when it stops beating properly.
The initiative, the first of its kind to take place outside the US, was launched today in Terminal 5, in association with Medtronic (who are supplying the equipment) and BAA.
Wilhelm Schleibach, who survived a cardiac arrest Heathrow two years ago because of a defibrillator, and BAA service team leader Demetrios Geniris, who has saved two lives using a defibrillator, attended the launch (see case studies below).
London Ambulance Service Community Defibrillation Officer Martin Bullock said: "In five minutes we can give people the basic knowledge to make a real difference in saving someone's life.
"When someone suffers a cardiac arrest it means that their heart has stopped effectively pumping blood around the body.
"To give someone the best chance of survival it is essential to call 999 for an ambulance immediately, and then begin basic life support while an ambulance is on the way.
"Getting a defibrillator to someone in cardiac arrest as soon as possible will also greatly increase their chances of survival."
BAA Head of Health and Safety Zoe Hands said: "The provision of defibrillators across the airport and the excellent training delivered to our staff by the London Ambulance Service has contributed to Heathrow's position as one of the best places outside of hospital to survive a cardiac arrest.
"We are proud to support these concise training sessions, which are an excellent way to educate people and empower them to make a real difference if they are ever called upon to use these skills."
Medtronic Physio Control Commercial Manager Julie Phillips said: "We are delighted to support this London Ambulance initiative. Although not everyone can be saved from sudden cardiac arrest, studies show that immediate CPR and defibrillation are critical to survival, as survival rates drop about 10 percent every minute without defibrillation.
"Basic life support training such as this will give members of the public the knowledge they need to know what to do in an emergency and how to deliver a lifesaving shock."
Cardiac arrest survivor case study – Wilhelm Schleibach
In 2008, Wilhelm Schleibach, then 63, suffered a cardiac arrest just after boarding a flight.
The quick-thinking British Airways cabin crew alerted the ambulance service immediately and used a defibrillator to shock his heart twice. His heartbeat returned and within a month he was discharged from hospital.
Wilhelm said: "I can't thank the BA and ambulance staff enough. All I remember is sitting in my seat and waiting for take off, and then I was lying in the back of an ambulance on my way to hospital."
Public-access defibrillator case study – Demetrios Geniris
The London Ambulance Service is responsible for placing defibrillators in public places around the capital and teaching people who work there how to use them.
There are 121 public-access defibrillators at Heathrow Airport. The London Ambulance Service has trained around 580 BAA workers to use them while an ambulance is on the way.
Since January 2009 the defibrillators have been used 16 times, with nine patients surviving to discharge. The average cardiac arrest survival rate in Greater London is just over 20 per cent.
BAA Service Team Leader Demetrios Geniris has twice used his training to shock a patient's heart. In both cases the patient's heartbeat has returned and they've later been discharged from hospital.
Demetrios said: "A defibrillator is really easy to use because a voice tells you exactly what to do and how to do it.
"I would encourage anyone to take advantage of these life-saving lessons. Just like me you never know when you'll need to use them."
In 2009, Demetrios received an award from the sudden adult death charity SADS UK in recognition of his life-saving efforts.
– Ends –
Notes to editors:
For further information about the London Ambulance Service or this news release please contact the communications department on 020 7783 2286