Paramedic helps flood victims
An Ealing paramedic travelled to Pakistan for a 10-day mission to provide medical aid to flood victims.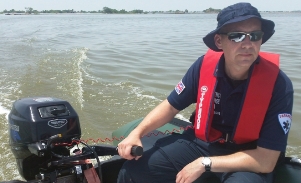 Phil Glannan, based at Hanwell station, Boston Road, volunteers in his spare time for Emergency Response Team – Search and Rescue – a charity which provides help to countries struck by disasters.
Phil, aged 42, was part of a 10-strong team, including doctors and water rescue technicians, who made the trip last month.
They spent two days in Karachi where they provided medical and water rescue training to the local ambulance service staff, before heading to Jacobabad – one of the country's worst-hit areas – where they worked alongside Pakistani military.
Phil, who has worked for the London Ambulance Service for five years, said: "When we arrived I was quite shocked to see how bad it was – it just looked like a huge lake with water as far as you could see.
"We took rescue boats with us and were able to show the local special forces water rescue techniques and set to work trying to help people. Sadly, some did not want to leave their homes and families, we did however manage to get many people to safety. We also saw many animals up to their necks in water, which couldn't be saved."
Ex-serviceman and father-of-two Phil, treated dozens of patients. The team also spent time in rescue camps, providing medical aid to those forced to flee their homes.
He added: "People were gathered on roof tops and in any high area of land they could find, from garage forecourts to a raised bit of road. The camps ranged from a few hundred to several thousand people.
"We treated people suffering from skin conditions and infections, abscesses, fever, scabies, diarrhoea and vomiting and malnutrition. I have obviously seen poorly people during my job as a paramedic, but never anything on such a large scale. I was glad to be part of a team that was able to offer practical help and make a small difference."
The team hopes to make a return trip to Pakistan in the near future.
-ENDS-
Notes to editors
Photo courtesy of Asad Faruqi and ERT Search and Rescue
For further information about the London Ambulance Service or this news release please contact the communications department on 020 7783 2286.
For more information and to contact The Emergency Response Team – Search and Rescue please contact SAR Chief Gary Foo by emailing

[email protected]

or visit http://www.ert-sar.org.uk/
Follow us on Twitter at www.twitter.com/ldn_ambulance