London Ambulance Service staff recognised for dedication
Ambulance staff with a total of more than 550 years' service to London have been honoured at a special ceremony.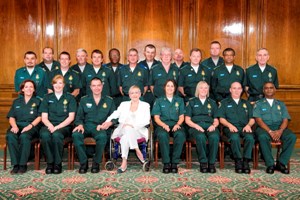 Members of frontline and support staff attended the event in Westminster on 8 September for the presentation of their certificates and medals.
Fifteen frontline staff received the Queen's Ambulance Service Long Service and Good Conduct Medal and six of their colleagues received the London Ambulance Service Medallion, presented by Chief Executive Peter Bradley.
Six retirees from across the organisation were also presented with glass plaques, bells and a certificate presented by Chairman Richard Hunt. Five of the six had reached the milestone of 20 years with the Service.
Chief Executive Peter Bradley said: "All of the recipients can be very proud of the contribution they have made to the work of the London Ambulance Service over the years, and their commitment and dedication typifies that of our staff across the capital."
Ends
Notes to editors