Lifesaving advice for Mayor's Newham Show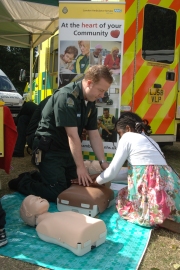 Visitors to the Mayor's Newham Show were given valuable lifesaving advice by the London Ambulance Service.
Paramedics and staff from Newham ambulance station were on hand over the weekend with training mannequins to demonstrate what to do if someone's heart stops beating.
Emergency Medical Technician Ruth Lewis said: "We had a lot of visitors to the stand and everyone was very positive about the Service and learning to save lives.
"We showed people how to recognise if someone is suffering a cardiac arrest, that is their heart has stopped beating and they've stopped breathing.
"If you think someone is suffering a cardiac arrest you should call 999 for an ambulance straight away and begin basic life support, which will effectively keep blood pumping around the patient's body."
The London Ambulance Service provides free basic life support training to the public. People who are interested in learning how to save a life in a medical emergency should call 020 7783 2534 or email [email protected]
Note to editors
For further information on the London Ambulance Service or this news release please contact the Communications Department on 020 7921 5113.