'Inspirational' Peggy leaves MBE to ambulance museum
The first female chief ambulance officer has left her treasured MBE medal to London Ambulance Service museum in her will.
Audrey Finch, known as Peggy, died in April aged 96. In 1940 she became a staff officer for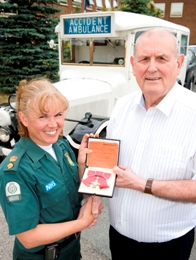 the Civil Defence Ambulance Service and in 1945 was promoted to chief ambulance officer for East Ham Borough Ambulance Service. She also helped to develop a community transport scheme, which became known as 'Dial a Ride', and was adopted across London.
Peggy, who lived in Manor Park, Newham, before moving to South Woodford, joined the East Ham Welfare Department in 1965 when Greater London Council was formed and nine borough ambulance services were merged to form London Ambulance Service. In 1955 Peggy received an MBE for services to the residents of East Ham.
Her MBE has now been left to the Service's museum, along with many photographs and documents.
To mark the occasion it was presented to Peggy's modern-day equivalent – Ambulance Operations Manager for Newham, Cathy Rideout.
Cathy said: "It's a real honour to accept Peggy's MBE on behalf of the museum and the Service. She sounds like an amazing and inspirational woman. The ambulance service has changed so much since she joined and I'm sure she would be proud of the good work we do in the area she served so well."
The MBE was presented to Cathy by Peggy's life long friend Peter Cobb. Peter was the Assistant Director of Newham Social Services and worked with Peggy from 1971 until she retired.
– ENDS –
Notes to editors
For more information or high resolution photographs please contact the Communications Department on

020 7783 2286

.
Follow us on Twitter at www.twitter.com/ldn_ambulance