Prestigious health award for staff support scheme
The London Ambulance Service has been commended for a scheme in which staff help their colleagues through stressful situations at a national awards ceremony supported by the Department of Health.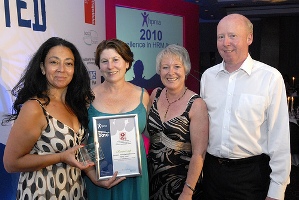 The Service was the only ambulance trust to reach the finals at the Healthcare People Management Association awards where the scheme was named runner-up in the category of 'best management practice in tackling workplace stress.'
LINC (Listening, Informal, Non-judgmental, Confidential) is a peer support scheme in which staff who volunteer are trained in basic counselling skills and offer a confidential listening service available to colleagues. In 2008/09, 765 people used the service, equating to 17 per cent of staff.
LINC Manager Chris Hutchinson said: "The overriding reason that LINC is successful is due to the volunteers, they are dedicated members of staff coming from a variety of roles and backgrounds. They work hard, and yet find the time to support colleagues on top of their day job. LINC workers often carry out this role behind the scenes and so to have their work recognised and acknowledged in this high profile way is fantastic and richly deserved.
"For our LINC scheme and for the Service to have won through to the final round of judging, let alone finish as UK-runner up, is a tremendous achievement and one about which we can all be very proud. I would like to thank all LINC workers, past and present, for making this possible and for their unstinting hard work and dedication
During the ceremony, held on 17 June, LINC was praised for reducing both short-term and long-term sickness absence periods for staff and decreasing stress levels.
LINC was piloted in 2003 and is continuing to expand and develop. A further 30 LINC workers are being recruited to take the total number in the network to over 100. The Service is also working with Greenwich University to secure accreditation for all LINC courses.
Senior LINC worker Chris Gill said: "We are passionate about the role LINC plays and recognition from outside of our Service is always welcome. I am very proud to be part of the LINC network."
– Ends –
Notes to editors:
Picture (from left to right):

Fátima

Fernandes Staff Support, Counselling and Occupational Health Services Manager, Jackie Bishop Senior LINC worker, Caron Hitchen Director of Human Resources, Tony Crabtree Assistant Director Employee Support Services
For further information on the London Ambulance Service or this news release please contact the communications department on 020 7921 5113. A high resolution, full-size image is available on request.
Follow us on Twitter at www.twitter.com/ldn_ambulance