Ambulance Service expects big increase in 999 calls during the World Cup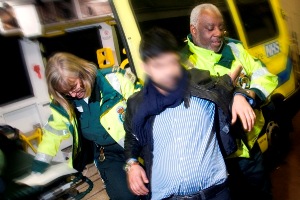 As the capital gets ready to embrace World Cup fever, the London Ambulance Service is urging people to stay safe during a summer of football.
A combination of sun, high temperatures and too much alcohol can mean an increase in 999 calls into the Service's control room – particularly following big England games.
When England played Portugal in the World Cup quarter finals in 2006, call volume increased by 44 per cent in the first hour after the match. And following the England v France clash in Euro 2004, call rates rose by almost 100 per cent.
Deputy Director of Operations Jason Killens said: "We know that big football tournaments mean a busy time for the London Ambulance Service, and our control room and frontline staff are prepared for more 999 calls, particularly alcohol-related calls.
"People should enjoy the World Cup, whoever they're supporting, but they should be sensible. I'd urge people to not to drink too much if they're out watching the football, to eat before drinking and to have plenty of water or soft drinks. And if it's hot and sunny remember to keep cool and use plenty of sunscreen.
 "We need to make sure that our staff are free to respond to patients who really need our help. Every minute we spend looking after someone who's had too much to drink is a minute that could have been spent helping someone with a serious or life-threatening injury or illness, the people who really need our help.
"Anyone with a more minor illness or injury – or who wakes up after a big game a little worse for wear – should think about using other healthcare options, such as their local pharmacist or NHS walk-in centre, or call NHS Direct on 0845 46 47. Or if people need to go to hospital for non-emergency treatment, they should consider making their own way there – going in an ambulance does not mean you will get seen any quicker."
A range of inititives are in place to deal with the expected increase in 999 calls during the World Cup, including:
Extra staff on duty, both on ambulances and in our Waterloo control room
Up to five alternative response vehicles – known as 'booze buses' – operating in central London. The vehicles are crewed by three members of staff and can attend people who are drunk and take a group of patients to hospital in one trip, rather than sending multiple ambulances
A team of ambulance staff based at Liverpool Street station working with St John Ambulance volunteers during England's midweek games to treat patients with minor illnesses and injuries, with vehicles from both organisations assigned to deal with alcohol-related emergency calls in the City.
– Ends –
Note for editors