Woodford man thanks his local lifesavers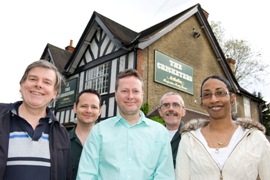 A Woodford Green man who dropped dead in his local pub has been reunited with the people who saved his life.
Roger Cornish, 54 of Prospect Road, last week met up with the friends, regulars and ambulance staff in the Cricketers, Woodford Green, who all helped to save his life when he suffered a cardiac arrest there in January.
Roger was unwinding with his friend Lawrie Short in the lounge bar on a Friday evening when he took a turn.
Lawrie said: "We were having a drink when Roger suddenly rocked back and started gurgling. I wasn't sure what exactly was wrong, but I could see he was very ill so I went to the bar and told them to call 999 for an ambulance."
Pub regular Cher Clarke was in the pub at the time. She said: "I turned around to see Roger collapsed against the window. I've never taken any first-aid courses, but I've always had a book with instructions for basic life support, and I could see that Roger needed help straight away.
"He wasn't breathing and I knew that he must be his heart. I got some other locals to put him on his back and we started to give him chest compressions and the kiss of life."
Walthamstow Paramedic Graham Howes, who was first on the scene in a fast response car, said: "When I arrived I found Cher and another regular giving Roger cardiopulmonary resuscitation (CPR), which effectively kept the blood pumping around his body while an ambulance is on the way.
"We gave Roger's heart two electric shocks with a defibrillator and his heartbeat returned. Early access to a defibrillator greatly increases someone's chance of survival if they suffer a cardiac arrest.
"When we carried Roger out of the pub with his heart beating again everyone cheered like the winning goal had been scored at Wembley!"
Whipps Cross ambulance crew Paramedic John Harrison and Student Paramedic Andy Willers, who also attended to treat Roger, took him to Whipps Cross Hospital as a priority. He was discharged two weeks later after having an implantable cardioverter defibrillator fitted.
Roger said: "I can't remember anything of the day, just waking up in hospital a few days later. I've never had any problems with my heart before and there's no history in family, so I'm glad that when this did happen there were people there who knew what to do.
"It's great to meet up with everyone and get the chance to say 'thank you'. If it wasn't for these people I wouldn't be here now."
– Ends –
Note to editors:
For further information on the London Ambulance Service or this news release please contact the Communications Department on 020 7921 5113.
A cardiac arrest occurs when a person's heart stops. Someone in cardiac arrest will lose consciousness, will not be breathing and will have no signs of circulation. A cardiac arrest is not the same as a heart attack, the latter being when a clot in the artery restricts the flow of blood to the heart. The terms 'cardiac arrest' and 'heart attack' are not interchangeable
London's cardiac arrest survival figure using the Utstein method has increased from 4.2 per cent in 1998/99 to 15.2 per cent in 2008/09
In 2008/09 the London Ambulance Service received over 125,000 calls from patients reporting potential cardiac or chest pain related problems
The London Ambulance Service provides free CPR training to the public and to businesses at a cost.  People who are interested in learning CPR and how to save a life in a medical emergency should call 020 7783 2534 or email

[email protected]