Staff limbering up for London Marathon
Staff are preparing to pound 26.2 miles of London's streets this weekend, when they will be running the Virgin London Marathon in aid of the Chief Executive's charity, MERU.
The charity, which is based in Epsom and covers all of London and the South East, designs and manufactures bespoke equipment for children and young adults with disabilities, when there is no other mainstream solution available on the market. The Service is hoping to raise £25,000 over the next two years for the organisation which was chosen by staff as the Chief Executive's charity.
All eighteen runners have been training hard over the last few months. Read on to find out more about some of the staff who will be taking part: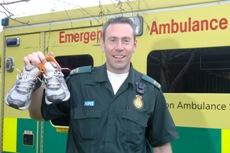 Rod Bryant, Newham
"It's something I've always wanted to do but never have, so I thought it was about time to attempt it. After visiting MERU in February, and seeing the fantastic work that they do, I'm determined to raise my target amount."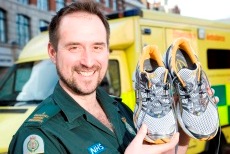 Luke Collyer, Homerton
Luke is taking a novel approach to getting round the marathon course this year: "Due to a knee injury, I can't run round the course. I didn't want it to just be a walk, I wanted to make it a parallel endurance so I'm dragging two tyres behind me. Look out for my charity bucket along the way!"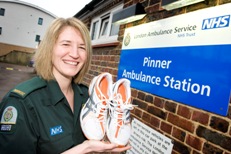 Amy Laws, Pinner
"I'm aiming to complete the course in under four and a half hours this time. MERU is a great charity and I'm very proud to be raising money on their behalf by running the marathon for them. Whilst I can still put myself through this pain/pleasure then I definitely feel I should do my bit for charity, and as a small charity I know that MERU appreciate our backing and support."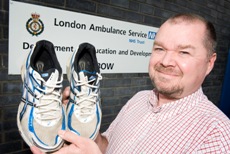 John O'Keefe, Patient Experiences Department
"Running the marathon is one of my hundred things to do before you die. My nephew had severe cerebral palsy, so MERU is a charity that I'm really happy to be running for."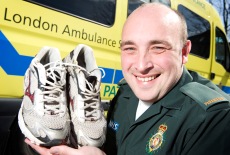 Scott Windley, Becontree
"I love the atmosphere that the marathon creates and all the good causes it supports. I've always wanted to take part and am very pleased to have a place this year. After visiting MERU, it was great to see what a great job they do in designing and manufacturing the custom made equipment."
Also running the marathon for MERU, are:
Arron Bonning, Tottenham
Roberta Evans, Hertfordshire university student and Waterloo relief
Steven Kime, Waterloo HQ
Jackie Neenan, Bow
Lynn Pearson, Emergency Operations Centre (EOC)
Gary Robertson, West Ham
James Rouse, Shoreditch
Ian Scott, Deptford
David Tunstall, Emergency Operations Centre (EOC)
Lorna Turner, Greenwich
Mark Wright, Oval
Paul Young, Bromley
To support the runners by making a donation please visit www.justgiving.com/lasmarathon. All the runners will be wearing MERU t-shirts during the marathon, so please cheer them on as they make their way round the route.
Notes to editors
For more information on this news release, or hi-res photos of our runners, contact the Communications Department on 020 7921 5113.
For more information about MERU, please visit http://www.meru.org.uk/ or call 01372 725203.