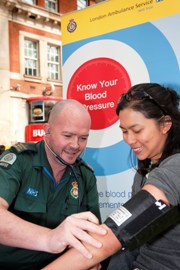 Nearly 2,200 Londoners had their blood pressure checked on Saturday (17 April) in the biggest health promotion initiative the London Ambulance Service has ever done.
The checks were carried out at 19 venues across London including supermarkets, shopping centres, and Waterloo train station to raise awareness of the danger of undiagnosed high blood pressure, which is the biggest risk factor for stroke.
Out of the 2,173 people who had their blood pressure checked, 465 were advised to make an appointment with their GP in the next seven days and 37 to see their GP urgently. Five people were taken straight to hospital for further treatment.
Most people attending were shown how to perform the FAST test, which is a simple way of diagnosing stroke in other people (Face, Arm, Speech, Time to call 999). The more quickly a stroke can be identified, the more chance someone has of recovery.
Assistant Medical Director Daryl Mohammed said: "To see the numbers we did turning up at the health fairs was really encouraging. There are now 2,173 people in London who have taken a big step forward in preventing stroke by getting their blood pressure checked.
"Our staff advised 502 people to make an appointment with their GP and took five people straight to hospital. This shows that people are out there with undiagnosed high blood pressure, which needs checking as they may have hypertension, which is the biggest single risk factor for stroke".
"We have also helped to raise awareness of stroke, including giving many people the ability to diagnose stroke in others by teaching them the FAST test."
A stroke, also known as a 'brain attack', happens when the blood supply to part of the brain is cut off. In many cases someone suffering a stroke can be left with long-term disabilities, while in some cases they can even die.
The health fairs were run in partnership with The Stroke Association, who worked with all ambulance services in England and Northern Ireland to hold the events across the two countries.
– Ends –
Note to editors
For further information on the London Ambulance Service or this news release please contact the Communications Department on 020 7921 5113.
Please find below a table showing details of people seen by ambualnce staff in each location.
| | | | | | | |
| --- | --- | --- | --- | --- | --- | --- |
| Location     | Number of people having a health check                  | Male                   | Female     | Advised to make a GP appointment in the next seven days | Advised to make an urgent GP appointment | Taken to hospital    |
| Barnet | 110 | 55 | 55 | 15 | 1 | 0 |
| Bexley | 93 | 33 | 60 | 27 | 2 | 0 |
| Brent | 116 | 73 | 43 | 22 | 2 | 0 |
| Bromley | 107 | 44 | 63 | 21 | 2 | 1 |
| Croydon | 100 | 41 | 59 | 24 | 0 | 0 |
| Ealing | 57 | 28 | 29 | 6 | 0 | 0 |
| Enfield | 127 | 47 | 80 | 36 | 5 | 1 |
| Greenwich | 80 | 45 | 35 | 13 | 1 | 0 |
| Harrow | 81 | 42 | 39 | 6 | 0 | 0 |
| Havering | 161 | 66 | 95 | 50 | 2 | 0 |
| Hillingdon | 146 | 63 | 83 | 38 | 3 | 0 |
| Lambeth | 102 | 50 | 52 | 10 | 0 | 1 |
| Lewisham | 122 | 68 | 54 | 37 | 11 | 1 |
| Merton & Sutton | 133 | 52 | 81 | 42 | 2 | 0 |
| Newham | 105 | 41 | 64 | 23 | 2 | 0 |
| Redbridge | 119 | 69 | 50 | 22 | 1 | 1 |
| Southwark | 108 | 41 | 67 | 13 | 1 | 0 |
| Waltham Forest | 74 | 37 | 37 | 19 | 0 | 0 |
| Waterloo train station | 232 | 134 | 98 | 41 | 2 | 0 |
| Total | 2,173 | 1,029 | 1,144 | 465 | 37 | 5 |
Stroke facts
A stroke is a brain attack which happens when the blood supply to part of the brain is cut off
High blood pressure is the single biggest risk factor for stroke
Stroke is the third leading cause of death and the largest single cause of disability in England
Somebody in the UK has a stroke every five minutes
Stroke is more common in men than women – but more women who have strokes die from them compared to men
The brain ages 3.6 years and loses 120m cells for every hour a stroke is left untreated
The FAST test
A simple way to check for stroke in others is by using the FAST test. Look for:
Face: Has the person's face fallen on one side? Can they smile?
Arms: Can they raise both arms and keep them there?
Speech: Is their speech slurred, or is there difficulty in understanding?
T

ime: Time to call 999 if you see any single one of these signs