Work of 999 lifesavers recognised on 09-09-09
London's top ambulance officer has taken the opportunity to thank 999 ambulance staff and colleagues in the other emergency services for their work today – 09-09-09.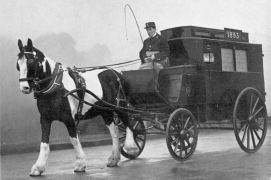 "Today it is apt to recognise the superb work of the people who work so hard to provide the 999 service in the capital," said Peter Bradley, Chief Executive of the London Ambulance Service.
"They work 24/7, 365 days a year to ensure Londoners get the help they need in an emergency – and particularly in life-threatening situations".
An average of 3,800 people call 999 every day in the capital and ask for an ambulance. **
That's some 1.4 million calls every year – and the numbers continue to increase year on year.
Just 10 per cent of all calls to the ambulance service are to people who are critically ill or injured, with the vast majority not needing the traditional ambulance travelling on blue lights and sirens.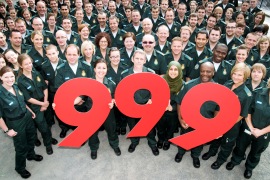 "If there is a message for the public," said Peter, "I'd ask that they use their ambulance service wisely. Please save us for the times when someone is seriously or critically ill or injured, and at other times seek medical help from your GP, pharmacist, a walk-in centre or NHS Direct on 0845 4647.
"Or you could make your own way to A&E – travelling by ambulance does not necessarily mean you will be seen any quicker."
Notes to editors:
The London Ambulance Service is the busiest ambulance service in the UK, caring for almost one million patients every year.
We provide an emergency healthcare service for over seven and a half million people living in London, as well as visitors and commuters to the city.
As the only London-wide NHS trust, our service extends over an area of approximately 620 square miles, from Heathrow in the west to Upminster in the east, and from Enfield in the north to Purley in the south.
Statistics
In 2008/09 we received a total of 1,423,496 emergency calls, compared to 1,389,660 in 2007/08.
Attended a total of 973,908 emergency incidents compared to 945,776 in 2007/08.
Sent 1,352,996 emergency vehicles to these incidents, compared to 1,279,441 the previous year
History
1800s – A full time ambulance service is established
1900s – this time 100 years ago, Londoners could have expected to see a horse-drawn carriage arrive to take them to hospital
1904 – petrol driven ambulances are introduced – they can carry a single stretcher at 15 mph, but do not fully replace their horse-drawn counterparts until 1912.
1930 – responsibility for the ambulance service in England and Wales transfers to the county councils
1937 – emergency number 999 is introduced
1948 – Following the second world war,  the national health service is established creating a requirement for ambulances to be available to all that need them
1965 – a London wide ambulance service is created out of nine existing services
1974 – an reorganisation of the NHS leads to control of the ambulance service being transferred from local government to the South West Thames Regional Health Authority
1989 – staff take part in a nationwide strike over pay and working conditions. This lasts six months as crews live off of donations from the public and hand out station telephone numbers to be contacted by them directly in an emergency
1996 – London Ambulance Service NHS Trust is born
7 July 2005 – more than 250 staff involved in the emergency response to the London bombings
2007 – November and December become our busiest months on record
2008 – London Ambulance Service voted best ambulance service in the country in the Healthcare Commission annual health check
For further information on the London Ambulance Service or this news release please contact the Communications Department on 020 7921 5113.