Annual report published
The Service's Annual Report 2008-9 has now been published.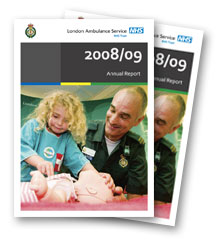 Containing facts and figures from the past year, the report is a record of what has been achieved and future plans.
This year's report details how the Service reached 25 per cent more patients with life-threatening injuries or illnesses within eight minutes compared to the previous year. That equates to filling half the seats at Wembley Stadium.
Other highlights include an interview with outgoing Chairman Sigurd Reinton and a summary of the first year of the Service's largest ever recruitment campaign.
The report also features case studies of patients and staff.
An electronic copy of the Annual Report 2008-9 can be downloaded here. Alternatively, if you would like a printed copy of the report, please email [email protected] with your full name and address or call the Communications Department on 020 7921 5113.
The London Ambulance Service's Annual General Meeting will be held on Tuesday 29 September at our headquaters in Waterloo. It begins at 2.00pm and is open to members of the public.
– Ends –
Note to editors:
For further information on the London Ambulance Service or this news release please contact the Communications Department on 020 7921 5113.