Lord West visits London Ambulance Service's hazardous area response team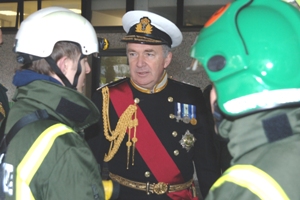 The UK's counter-terrorism strategy chief visited the London Ambulance Service headquarters in Waterloo today to meet the capital's hazardous area response team (HART).
Lord West – Parliamentary Under-Secretary for Counter-terrorism – was shown the range of equipment used by HART, and got a chance to talk with staff about how they work in dangerous or hazardous environments.
Lord West said: "I was exceptionally impressed by what I saw this morning. HART teams can make a vital difference between life and death in the immediate aftermath of an emergency. I applaud all of the men and women working in the HART teams – as well as the wider emergency services – in contributing to our world-leading resilience in counter terrorism."
The HART programme is currently being rolled out in ambulance services across the country. It comprises of teams of specially-trained emergency medical technicians and paramedics who are able to provide a better response to major incidents where there are large numbers of casualties.
Deputy Director of Operations Jason Killens said: "HART staff are highly trained so they can provide first-class, effective treatment to patients who are ill or injured at the scenes of a whole range of major incidents, from building collapses and fires to tube trains stuck in tunnels. The specialist equipment used by the team – such as their protective suits and breathing apparatus – also means they can treat patients in toxic or hazardous environments."
"Today's been a good opportunity to show Lord West the work done by our HART team in London and hopefully he's been given a valuable insight in to how we can respond to serious or major incidents."
– Ends –
Note to editors
For further information on the London Ambulance Service or this news release please contact the communications department on 020 7921 5113.
Follow us on Twitter at www.twitter.com/ldn_ambulance