Ambulance staff recognised for dedication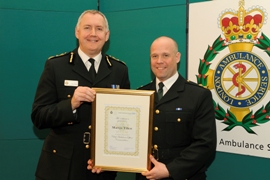 A ceremony has been held to honour London Ambulance Service staff who have recently achieved 20 years' service, those retiring from duty and one member of staff who went above and beyond the call of duty.
Members of frontline and support staff attended the event in Westminster on 23 February for the presentation of their certificates and medals.
Sixteen frontline staff received The Queen's Ambulance Service Long Service and Good Conduct Medal and three support staff received the London Ambulance Service Medallion.
Fourteen retirees from across the Service received glass plaques, bells and a certificate.
Chief Executive Peter Bradley, who presented the awards, said: "All the staff receiving recognition here have shown great dedication and commitment, whether it is in reaching 20 years' Service or the end of their career with us. It is this dedication that makes us the Service we are today and I'm very proud of that."
Chief Ambulance Officer's Commendation – Duty Station Officer Martyn Tillett
Tower Hamlets Duty Station Officer Martyn Tillett was awarded the Chief Ambulance Officer's Commendation at the ceremony for his bravery and courage in protecting a member of the public from a violent attack.
In November 2009, Martyn was travelling back to station at the end of his shift when he saw a woman being attacked by a man in Whitechapel. Martyn quickly stepped in and pulled the man away; restraining him, despite the man becoming more violent and aggressive, until colleagues and the police arrived.
The man was arrested and one week later ordered to pay an £850 fine by Thames Magistrates' Court and £350 for damage to the ambulance car caused during the struggle.
Chief Executive Peter Bradley said: "Martyn acted bravely and selflessly to protect a member of the public, and it makes me very proud to present him this award."
– Ends –
Recipients of The Queen's Ambulance Service (emergency duties) Long Service and Good Conduct Medal
Jim Agnew – Deptford
Andrew Cumner – Waterloo
David Hatchard – Urgent Operations Centre, Waterloo
Melanie Rogers – Urgent Operations Centre, Waterloo
Alison Horne – Croydon
Jamieson Maynard – Croydon
Martin Holmes – Camden
Kimberley Hurle – Becontree
Simon Lawrence – Becontree
Richard Lane – Sutton
Sally Pearce – Pinner
Paul Schofield – Mill Hill
Jeanette Spence – Lee
Christopher Tyler – Hillingdon
Mark Wickens – St Paul's Cray
London Ambulance Service Medallion
Joseph Baird – Emergency Operations Centre, Waterloo
Anthony O'Hanlon – Emergency Operations Centre, Waterloo
Maura Irwin – South west London and St George's
Retiring members of staff
David Hartshorn – Ilford – 42 years' service
Ann Bolton – Ilford – 10 years' service
Patrick McDermott – Hillingdon –33 years' service
Leonard Godliman – Hanwell – 32 years' service
Pauline Lee – Becontree – 30 years' service
Graham King – Becontree – 30 years' service
Michael Reeve – City & Hackney – 28 years' service
Leonard Sinfield – Kenton – 37 years' service
Dennis Heffernon – Sutton – 25 years' service
Joyce Trop – St Helier – 20 years' service
Edna Gunning – Brixton – 19 years' service
Ann Whittington – Waterloo headquarters – 14 years' service
Bentley Mason – Whipps Cross – 11 years' service
John Williams – New Malden – 34 years' service
Notes to editors:
For further information about the London Ambulance Service or this news release, or for high resolution photographs of the recipients, please contact the Communications Department on 020 7921 5113.
Follow us on Twitter at www.twitter.com/ldn_ambulance