Stewart Headlam schoolgirl commended for helping her mum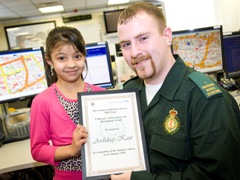 A Stewart Headlam Primary School pupil has been recognised for her prompt actions calling for help when her mum suffered an epileptic fit at home in January.
Seven-year-old Arshdeep Kaur phoned her aunt and then gave details of her mum's condition over the phone to the London Ambulance Service while an ambulance was on the way.
The London Ambulance Service call taker Emergency Medical Dispatcher (EMD) James Cooper, who spoke to Arshdeep on the phone, was so impressed with her actions that he met her again to present her with a certificate for her actions.
Arshdeep was with her mum Sandeep, 27, and her three-year-old sister one morning at their Barnsley Street home in Bethnal Green, when Sandeep began to feel unwell.
Sandeep said: "I was ironing when I started to feel unwell. I could feel a fit coming so I sat down on the bed and then I can't remember anything."
Arshdeep said: "I was watching cartoons with my sister when I saw that mum wasn't well. I called my aunty and then the ambulance man called me and asked me some questions."
James had taken the 999 call from Arshdeep's aunty and then called the address. He said: "While we dispatched the nearest ambulance, I called the number to get more details of the patient's condition. Arshdeep answered the phone and I was incredibly impressed at how calm and helpful she was.
"She gave me details of her mum's condition, removed anything that might hurt her mum and made sure her little sister was alright until the ambulance crew arrived. For such a young girl she showed some great initiative. She did an absolutely fantastic job."
Sandeep was taken to hospital, has since recovered and is back at home. James presented Arshdeep with her certificate in the Service's emergency operations centre in Waterloo. He also showed Arshdeep and Sandeep how the Service deals with 999 calls.
– Ends –
Notes to editors