Drummer gets his rhythm back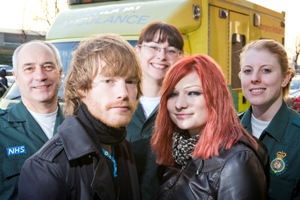 A session drummer has thanked the ambulance staff who saved his life when his heart stopped beating.
Lee Verralls, 24, from Wells House Road, was at home jamming with friends last July when he suffered a cardiac arrest.
Lee's girlfriend Kym Burgess, 22, said: "Everything was normal when Lee just fell of his chair and stopped breathing. It was very frightening and we didn't know what had happened. Our friend Jimmy called 999 for an ambulance."
Emergency Medical Dispatcher Juliet George answered the call. She said: "Once I identified that Lee was suffering a cardiac arrest I gave instructions to his friend over the phone to start cardiopulmonary resuscitation (CPR). If someone's heart stops beating calling 999 for an ambulance and starting CPR as soon as possible gives them the best chance of survival."
Within a few minutes of the 999 call Fulham Emergency Medical Technician Daniel Crichton and Brent ambulance crew Emergency Medical Technician Emily Grist and Paramedic Dennis Brown were on the scene.
Emily said: "We arrived to find Lee in cardiac arrest and his friend giving CPR to good effect. We immediately attached a defibrillator to his heart and shocked it twice. Lee's heartbeat returned.
"Like CPR, getting a defibrillator to someone suffering cardiac arrest as soon as possible gives them the best chance of survival."
Emily and Dennis took Lee to Hammersmith Hospital. He was later transferred to St Mary's Paddington where he had an internal cardioverter defibrillator fitted and was discharged after a month.
Lee, who had no previous history of heart problems, said: "I've got no recollection of anything, just waking up in hospital a week later. It's great to meet the ambulance staff again and I am eternally grateful to them and to Jimmy for their amazing work. Now my life's back to normal and I'm back playing live with my band Headspace."
Kym said: "The ambulance staff did such an amazing job saving Lee's life, as he would 100 per cent not be here if it wasn't for them."
Lee was also attended by ambulance crew Paramedic Jackie Mee and Emergency Medical Technician Ian Pollock, who took Kym to hospital to be with him.
Lee's friend Jimmy Woodford, who gave Lee CPR whilst taking instructions over the phone, is currently travelling abroad and could not attend the reunion.
– Ends –
Note to editors:
For further information on the London Ambulance Service or this news release please contact the communications department on 020 7921 5113.
A cardiac arrest occurs when a person's heart stops. Someone in cardiac arrest will lose consciousness, will not be breathing and will have no signs of circulation. A cardiac arrest is not the same as a heart attack, the latter being when a clot in the artery restricts the flow of blood to the heart. The terms 'cardiac arrest' and 'heart attack' are not interchangeable
London's cardiac arrest survival figure using the Utstein method has increased from 2.5 per cent in 1998/99 to 15.2 per cent in 2008/09
In 2008/09 the London Ambulance Service received over 125,000 calls from patients reporting potential cardiac or chest pain related problems
The London Ambulance Service provides free CPR training to the public and to businesses at a cost.  People who are interested in learning CPR and how to save a life in a medical emergency should call 020 7783 2534 or email

[email protected]