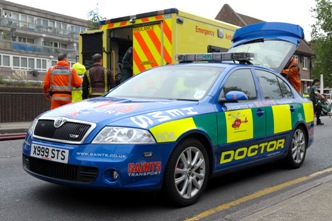 London's Air Ambulance (LAA) is to be the first in the UK to operate 24 hours a day, seven days a week from 1 March, thanks to increased support from the London Ambulance Service.
Up until now, the registered charity has been able to fund a 24 hour service at weekends only, using specially equipped rapid response cars to cover all after-dark missions, when the helicopter goes off-line. Throughout the rest of the week, the service finished at 1am, resuming with helicopter missions at 7am.
Now, thanks to a generous move from the London Ambulance Service to fund the wages of all LAA paramedics, the rapid response cars can continue to operate from 1am to 7am, every single day of the year.
London Ambulance Service Medical Director Dr Fionna Moore said: "We are committed to providing the most appropriate response to our patients 24/7. Our decision to fund staff to work with London's Air Ambulance 24-hours a day will ensure that our most seriously injured patients receive life-saving treatment on the scene and on the way to hospital. The move will also ensure that those patients are taken to directly to a hospital where they will get the best possible level of care from a team of senior, expert clinicians."
– Ends –
Notes to editors: