London Ambulance Service biker prepares for lap of Britain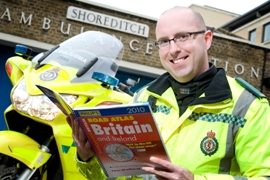 A motorcycle-mad paramedic will ride thousands of miles around the coast to raise funds for charity.
Ian Greenwood, 29, who is based at Shoreditch, will set off from Waterloo station on 1 March.
The 10-day trip will see him ride 3,100 miles around the coast to Scotland and back down again, camping out along the way.
He is aiming to raise at least £2,500 for Help for Heroes, which helps wounded servicemen and women.
Ian, from Hemel Hempstead, said: "I love my bike and I've not done anything like this before. I have friends from the army and I wanted to do my bit to raise money for those who are wounded. They deserve the best care and funding."
To sponsor Ian visit www.justgiving.co.uk/alapofbritain
– Ends –
Notes to editors