Icy conditions put the London Ambulance Service under pressure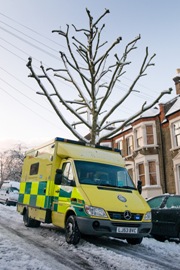 "Please use us wisely and only call 999 with life-threatening emergencies" – that's again the message from the London Ambulance Service as icy conditions in the capital mean extra pressure for the Service.
Demand on the Service's 999 control room is already starting to rise this morning, with operators handling almost 300 calls an hour – more than double the usual number.
It is anticipated that icy pavements will lead to an increase in slips, trips and falls putting extra pressure on the Service.
Assistant Chief Ambulance Officer John Pooley said: "After the snow, ice is the major issue and I'd urge people to take extra care when they're out and about, and to dress appropriately.
"We're seeing an increase in calls where people have slipped or fallen over so please be careful. The roads might be relatively clear but the pavements are very slippery."
Londoners with minor illnesses or injuries are being asked to think about other healthcare options, such as calling NHS Direct on 0845 46 47 for advice, or going to a minor injuries unit, their local pharmacist or NHS Walk-in centre.
John said: "Anyone who thinks that they need to go hospital for non-emergency treatment should consider making their own way there – going in an ambulance does not mean that they will be seen any more quickly."
– Ends –
Notes to editors
For further information about the London Ambulance Service or this news release please contact the communications department on 020 7921 5113.
Follow us on Twitter at www.twitter.com/ldn_ambulance