Capital's cardiac arrest survival rate goes up more than six times in a decade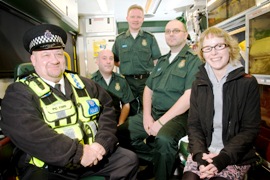 Londoners whose hearts stop beating in public are over six times more likely to survive than ten years ago, new figures from the London Ambulance Service reveal.
Just under one in six people (15.2 per cent*) who suffered an out-of-hospital bystander-witnessed cardiac arrest were discharged from hospital alive last year, compared to 2.5 per cent in 1998/99.
The news comes from the London Ambulance Service 2008/09 Cardiac Arrest Annual Report and the increased survival rate reflects a wide range of developments in the care and treatment of cardiac patients in the capital.
Clinical Practice Manager Mark Whitbread said: "When someone's heart stops beating every second is vital, and to have seen such tremendous improvements in these survival rates is a great achievement.
"Many factors have contributed to the improved cardiac arrest survival rate, which include our staff reaching patients in a life-threatening condition faster than ever before and giving a high quality of care on scene.
"The most important thing to remember is that if you see someone collapse and stop breathing you need to call 999 for an ambulance as quickly as possible and begin chest compressions while the ambulance is on the way. This will give the patient the best chance of survival."
Last year the Service community resuscitation team trained over 10,000 members of the public in basic life support, which includes delivering cardiopulmonary resuscitation (CPR), or chest compressions and rescue breaths, a lifesaving technique that doubles a cardiac arrest patient's survival if performed while emergency help is on the way.
With the help of Big Lottery funding and the British Heart Foundation, the Service is now responsible for almost 500 automated external defibrillators (AEDs) – machines that can deliver a shock to restart a patient's heart – in public places such as railway stations and shopping centres. Last year the Service trained over 1,200 staff in these public places to use a defibrillator.
*The cardiac arrest survival figure is calculated using the internationally-recognised Utstein method. The calculation takes into account the number of patients discharged alive from hospital who had resuscitation attempted following a cardiac arrest of presumed cardiac aetiology, and who also had their arrest witnessed by a bystander and an initial cardiac rhythm of ventricular fibrillation or ventricular tachycardia.
Cardiac arrest patient case study – Mary Cook
Twenty-eight-year-old Mary Cook from south London was walking along Tooley Street, London Bridge, one evening in May this year when she collapsed and stopped breathing. She had suffered a cardiac arrest.
British Transport Police Constable Noel Harmsworth was passing by with a colleague. He said: "I could see Mary lying on the floor turning blue and I knew she needed help. Someone had already called 999 for an ambulance, so I immediately started chest compressions."
Waterloo ambulance crew paramedic Alan Hedger and emergency medical technician Paul Saddington, and single responder emergency medical technician Justin Langan arrived on the scene to find Noel administering CPR.
Paul said: "Noel was giving CPR to Mary for about five minutes before our arrival, which effectively keeps a patient alive while advanced medical assistance is on the way.
"We attached a defibrillator, gave Mary's heart two shocks and it started beating again. Patients in cardiac arrest need treatment with a defibrillator as soon as possible for the best chance of survival."
Alan and Paul took Mary to St Thomas Hospital where she underwent a bypass operation. After eight weeks Mary was discharged home. She is now back working as a web designer and is moving abroad to continue her career in Germany this month.
Mary, who lives on New Park Road, Brixton, said: "I don't remember anything for a week before the incident until waking up in hospital. It's great to meet Alan and Paul again and say 'thank you'. Without the help of them, the police officers and the passer by calling 999 so quickly, I'd be dead by now."
Additional figures from London Ambulance Service Cardiac Arrest Annual Report 2008/09 – Authors Gurkamal Virdi, Lynne Watson and Dr Rachael Donohoe
Around two thirds of cardiac arrests in London occurred in the home
Of those that occurred in public, around a third took place in the street
Nearly half of all cardiac arrests were witnessed by bystanders (44 per cent)
However, bystanders only gave cardio-pulmonary resuscitation (CPR) in a third of all cardiac arrests (34 per cent)
The average age of a cardiac arrest patient was 68
The majority of patients (64 per cent) were male
Female patients were on average seven years older than males (72 compared with 65)
Cardiac arrests occurred most frequently on a Monday
The highest number in a single month occurred in November (9.4 per cent) and the fewest in February (6.8 per cent)
– Ends –
Notes to editors
A cardiac arrest occurs when a person's heart stops. Someone in cardiac arrest will lose consciousness, will not be breathing and will have no signs of circulation. A cardiac arrest is not the same as a heart attack, the latter being when a clot in the artery restricts the flow of blood to the heart. The terms 'cardiac arrest' and 'heart attack' are not interchangeable
London's cardiac arrest survival figure using the Utstein method has increased from 4.2 per cent in 1998/99 to 15.2 per cent in 2008/09
In 2008/09 the London Ambulance Service received over 125,000 calls from patients reporting potential cardiac or chest pain related problems
The London Ambulance Service provides free CPR training to the public and to businesses at a cost.