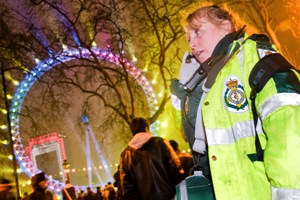 Ambulance staff are preparing for one of their busiest nights of the year as thousands of revellers in the capital get ready to welcome 2010.
The London Ambulance Service always experiences a huge rise in 999 calls on New Year's Eve, but with temperatures expected to fall in the coming days, an even bigger surge in demand is anticipated.
Head of Emergency Preparedness John Pooley said: "Our staff work hard to look after Londoners and we are well-prepared for an increase in emergency calls on New Year's Eve.
"However, with the cold weather expected to return it's important that people wrap up warm and plan their journey home in advance if they're out celebrating and drinking in London. And I'd urge people to pace themselves and watch what they drink.
"Alcohol-related calls put extra pressure on the Service, so I'd ask people to be sensible. Every minute that we spend looking after somebody who is simply drunk, is a minute that could have been spent helping a patient who is seriously ill or injured. We want people to enjoy themselves, but they should think carefully before dialling 999. It should only be used for emergencies."
To help deal with the massive increase in demand on New Year's Eve, the Service is running a number of initiatives, particularly in relation to alcohol-related calls:
Treatment centres – staff will be at 12 treatment centres across the capital to look after people who've had too much to drink, or who have minor illnesses or injuries. The idea is to treat patients at these dedicated field hospitals rather than taking them to busy A&E departments. The Service will be running the centres in conjunction with staff from St John Ambulance at sites including Waterloo and Charing Cross train stations and Trafalgar Square.
Medical response teams – working in teams of three, up to 90 staff will be on foot in the busy celebration hotspots around Trafalgar Square, Leicester Square, the West End and the banks of the Thames. Assisted by staff from St John Ambulance, these teams will be sent to calls by a dedicated control room.
'Booze buses' – Four patient transport vehicles or 'booze buses' will also be on patrol in the capital to look after patients who are drunk, or who are suffering from alcohol-related illnesses or injuries. They will help to free up frontline ambulances for patients in a serious or life-threatening condition.
In addition to the efforts in central London, staff in Croydon will be running several dedicated emergency vehicles in the town centre to help deal with the extra demand. The town's walk-in centre will also be open to treat patients with minor injuries.
John said: "We are doing all that we can to ensure our normal level of service is maintained throughout New Year's Eve but we would ask the public to help us by using their ambulance service wisely.
"Dialling 999 just because you or a friend is drunk is not appropriate. Our priority is to attend patients with life-threatening or serious illnesses or injuries, the elderly and patients with chronic conditions. People with minor illnesses or injuries should think about using other healthcare options like NHS Direct on 0845 46 47, or their local pharmacist or walk-in centre.
"If people need to go to hospital for non-emergency treatment, they should make their own way there. Arriving by ambulance does not mean you will be seen any quicker."
There are also a number of things that people can do to help themselves:
Eat before drinking to help soak up alcohol
Have the odd soft drink to keep yourself hydrated
Try to keep track of what you've had
And very importantly:
Wrap up warm
Plan your journey home. Don't leave it to chance – think about how you're going to get home, and who with, before you go out.
Keep an eye on your friends to make sure that no one gets left behind
– Ends –
Notes to editors
The Service's emergency operations centre takes an average of 120 calls an hour. Last year the Service took a total of 1,866 emergency calls between midnight and 4am on New Year's Day, at a rate of 467 per hour.
New Year's Eve 2008 was the second busiest night for the London Ambulance Service after New Year's Eve 1999 (2,233 calls between midnight and 4am).
For further information about this news release please contact the communications department on 020 7921 5113.
Find out how we're dealing with alcohol-related calls at www.londonambulance.nhs.uk/christmas
Follow us on Twitter at www.twitter.com/ldn_ambulance