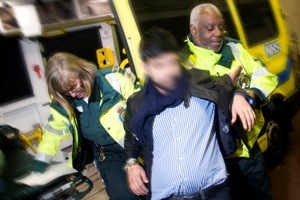 Demand on the London Ambulance Service is expected to soar on Friday (18 December) when festive revellers brave the cold to pack the city's pubs, bars and clubs for the office party night.
The equivalent night in 2008 saw the Service take 1,731 emergency calls between the 8pm and 3am – almost a 10 per cent increase on the previous three Friday nights that December, with that trend expected to continue this year.
Deputy Director of Operations Jason Killens said: "This time of year is always very busy for us and there will be a lot of office parties taking place this week which will no doubt lead to a further increase in demand – especially with calls relating to alcohol.
"We need to make sure that our staff are free to respond to patients who really need our help. Every minute we spend cleaning up vomit from someone who's drunk is a minute that could have been spent helping someone with a serious or life-threatening injury, the people who really need our help.
"I'd urge people to wrap up warm this weekend and not to drink too much. People out and about in London should take extra care of themselves and their friends.
"Anyone with a more minor illness or injury – or who wakes up on Saturday feeling a little worse for wear – should think about using other healthcare options, such as their local pharmacist or NHS walk-in centre, or call NHS Direct on 0845 46 47. Or if people need to go to hospital for non-emergency treatment, they should consider making their own way there – going in an ambulance does not mean you will get seen any quicker."
The Service has already seen a rise in 999 calls this December, responding to 1,589 calls last Friday (11 December) between 8pm and 3am. That's an increase of almost 11 per cent on the final Friday in November – before party season got underway.
A range of initiatives are in place to deal with the festive demand, including:
Four alternative response vehicles – known as 'booze buses' – operating in central London. The vehicles are crewed by three members of staff and can attend people who are drunk and take a group of patients to hospital in one trip, rather than sending multiple ambulances.
A team of ambulance staff based at Liverpool Street station working with around 20 St John Ambulance volunteers across the weekend to treat patients with minor illnesses and injuries, with vehicles from both organisations assigned to deal with alcohol-related emergency calls in the City.
The booze buses and treatment centre are vital in easing demand on the Service at its busiest time of the year. However, there are a number of things that people can do to help themselves:
Eat before drinking to help soak up alcohol
Have at the least the odd soft drink to keep yourself hydrated
Try to keep track of what you've had
And very importantly…
Plan your journey home: Don't leave it to chance – think about how you're going to get home, and who with, before you go out.
Keep an eye on your friends – make sure that no one gets left behind, as these are the people who we can often be called to help
Wrap up warm to keep the cold at bay
– Ends –
Notes to editors
December 2009's rise in demand
Emergency calls, 8pm to 3am

Nov 27-28

Dec 4-5

Dec 11-12

1,433

1,618

1,589
For more information, please contact the London Ambulance Service communications department on 020 7921 5113.
Pictures are available of the central London booze bus and Liverpool Street treatment centre.
For more information about how we are dealing with alcohol-related calls during the festive season please visit www.londonambulance.nhs.uk/christmas