Marathon man makes it 200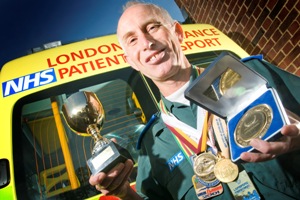 Keen runner and patient transport service ambulance person Jim Mundy smashed through the 200 marathon mark last month.
58 year old Jim, based at St Helier ambulance station, reached the milestone of a massive 200 competitive marathons in September when he finished a 26.2 mile course in the New Forest in 3 hours 40 minutes.
Talking about his feat, Jim said: "Looking back I'm quite proud of what I've achieved. I did my first marathon in London back in 1991 and 12 years later I'd only managed another 19. But in the last six years I've done another 180."
"As well as keeping you fit, running is a great way to see the world. I was in the New Forest for my 200th and I've run in Germany, Belgium, Ireland, London, Rome and Barcelona – you see all the sights while you're running."
Jim initially set his mind on completing a centenary of marathons after being given a glimpse into the prestigious 100 Marathon Club by fellow runner Jack Brookes. "I can remember Jack was doing his 100th marathon when I was on my 21st," explained Jim. "I suppose he was the reason I wanted to get to the magic number as well, and from then I've just kept going."
As well as running the equivalent of London to Baghdad and back in his 200 marathons, Jim is also on course to run 52 marathons in as many weeks – something he missed out on last year when an event in Luton was cancelled.
Now he's clocked up a double century Jim hopes to keep on running and he has no plans to hang up his running shoes just yet. "I'm getting into the ultra marathons now – they're all over 26 miles and much tougher than a regular marathon. For example, next March I'll be running the entire length of the old route of the Berlin Wall in Germany helping Down Syndrome suffers. They'll be running the course in relays but I'll be doing it in one go. That's about 100 miles in 30 hours."
And the best thing about running a marathon? Well, that's simple said Jim: "Crossing the finish line."
– Ends –
Note to editors:
For further information on the London Ambulance Service or this news release please contact the communications department on 020 7921 5113.