Barnehurst paramedic recognised for 30 years' dedication
A Barnehurst paramedic is celebrating 30 years with the London Ambulance Service.
Les Spiteri joined the Service in 1979 as an ambulance man, becoming a paramedic 11 years ago. He's been honoured for his long service by Chief Executive Peter Bradley.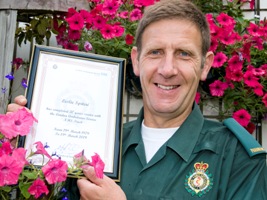 53-year-old Les said: "I love what I do and still get lots of job satisfaction. I joined up because I always wanted to work in the emergency services and I'm still happy to be here after 30 years.
"There are lots of good things about working for the London Ambulance Service but the best things are helping people, and of course all the great friendships you make over the years."
The married father-of-two has been working out of St Paul's Cray ambulance station for the past 20 years and has had spells working across London in Waterloo, Bloomsbury, Oval and Woolwich.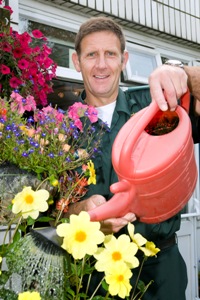 Les – who lives in St Mary's Cray – has seen lots of changes over the years and is proud of the way the Service has developed. "We're definitely moving in the right direction," he said. "We can treat patients now and diagnose illnesses thanks to our training and the equipment we carry. That's made the job more technical for us and better for our patients."
An award-winning gardener, Les also recognises the importance of being able to relax. He said: "I've been looking after the roof garden at St Paul's Cray for 20 years now. In this job you need to unwind when you can and in the short breaks we have on stations I'd much rather be in the garden than stuck inside watching TV."
Chief Executive Peter Bradley said: "Reaching 30 years is a fantastic achievement and shows the dedication and commitment of Les. It is this dedication that makes us the Service we are today and I'm very proud of that."
– Ends –
Notes to editors:
For further information about the London Ambulance Service or this news release, or for high resolution photographs, please contact the Communications Department on 020 7921 5113.