Service welcomes specialist centres for stroke and trauma patients
Stroke and trauma patients across the capital will benefit from ambulance staff taking them directly to a specialist centre for treatment from as early as April next year.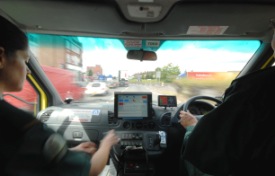 Plans for the creation of eight hyper-acute stroke centres and four major trauma centres in London have been given the go-ahead by a joint committee of primary care trusts today (20 July). The centres will be linked to local units where rehabilitation care will be delivered.
Medical Director, Fionna Moore, said: "This is really good news for Londoners. Under the new arrangements, stroke and major trauma patients will be taken straight to a hospital where they will immediately receive the best possible treatment from expert clinicians.
"The ambulance journey may take longer than it would to a local emergency department, but by being given the most appropriate care straightaway, patients will have a much better chance of survival and a reduced risk of disability.
"Our staff already take heart attack patients directly to specialist centres, often bypassing their nearest hospital, and this has proven to improve clinical outcomes.
"We will still be taking the majority of patients to their local emergency department, as stroke and major trauma cases make up a very small number of the patients we treat."
The Service will continue to work closely with Healthcare for London during the implementation of the proposals.
– Ends –
Note to editors
The London Ambulance Service is the busiest ambulance service in the UK, caring for almost one and a half million patients every year.
We provide an emergency healthcare service for over seven and a half million people living in London, as well as visitors and commuters to the city.
As the only London-wide NHS trust, our service extends over an area of approximately 620 square miles, from Heathrow in the west to Upminster in the east, and from Enfield in the north to Purley in the south.
Major trauma:
Major trauma injuries are life-threatening or multiple injuries which include arm/leg amputations, serious head injuries, knife and gunshot wounds etc. Patients with these injuries will be taken to a 'major trauma centre'.
All Londoners will be within a 45-minute blue-light ambulance journey of a major trauma centre. Many will be much less as most trauma happens in central London.
Major trauma represents 0.1 per cent of the calls to which the London Ambulance Service responds.
Patients with trauma injuries such as a fractured hip/ankle or minor head injuries will be dealt with at a 'trauma centre', most likely to be a local emergency department.
Stroke:
Stroke patients need to receive quick access to a CT scan, and there is a higher chance of survival if they are treated within three hours. Only hyper-acute stroke units can provide this service 24/7.
Ambulance crews will take patients who show stroke symptoms (identified through the Face Arms Speech Test) to a hyper-acute stroke unit for initial treatment.
All Londoners can be taken by blue-light ambulance to a hyper-acute stroke unit within 30 minutes.
Journey times:
The Service is confident that all patients will be within a 45-minute blue-light ambulance journey to the major trauma centres, and within 30 minutes of the hyper-acute stroke units.
If journeys to specialist centres are going to be longer than they would to the nearest emergency department – meaning we have fewer ambulance resources available to respond to calls – the London Ambulance Service will seek additional funding to address this shortfall. It will be important that patients do not wait any longer for an ambulance than they do at present.
For more details on the stroke and trauma networks, please visit: http://www.healthcareforlondon.nhs.uk/
For more information, please contact the Communications Department on 020 7921 5113.