New Chair appointed to the London Ambulance Service
Richard Hunt CBE has been appointed as the new Chair of the London Ambulance Service NHS Trust.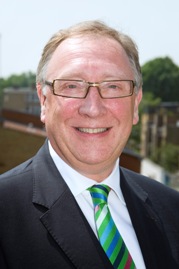 Richard, who until recently was the International President of the Chartered Institute of Logistics and Transport, has experience extending across the aviation, logistics, international oil, brewing and industrial sectors.
Richard is a former Chief Executive of Aviance Ltd, part of the Go-Ahead Group plc, which handles logistic services at 17 UK airports. He was Chief Executive of EXEL Logistics Europe which is now part of DHL, and has also held director level roles with Brown and Tawse plc and Courage/Grand Met Brewing.
Chief Executive Peter Bradley said: "We welcome Richard as our new Chair, and we are looking forward to working with him to ensure patients in the capital continue to get the best possible care from their ambulance service.
"Richard joins us at an important time when we will be playing a key role in shaping healthcare services for Londoners, and as we progress towards foundation trust status".
Commenting on his appointment Richard said: "I feel privileged to have the opportunity to work with an organisation that is so important to the well-being of Londoners.
"The London Ambulance Service has come a long way in recent years, and I'm looking forward to carrying on the good work of my predecessor so that we continue to provide a high quality service for our patients".
Richard Hunt biography
Richard has until recently held the position of International President of the Chartered Institute of Logistics and Transport which has more than 30,000 members and operates across 30 countries. He will serve as the Immediate Past International President of the Institute until 2011.
Richard is currently Chairman of the logistics group within the Engineer and Logistics Staff Corps RE(V) which is a group of industry advisors to the MOD.
A qualified business coach, he also provides business coaching and mentoring support to senior executives.
Between 2002 and 2005, Richard was Chief Executive of Aviance Ltd, part of the Go-Ahead Group plc, which handles logistic services at 17 UK airports. Before that, he held a number of senior positions with logistics companies (1995 to 2002), including EXEL Logistics which was the largest UK transport and logistics business.
Working within the public sector, Richard served as a non-executive on the Highways Agency Advisory Board for five years between 2000 and 2005.
From 1993 to 1995 Richard was the Logistics Director for Brown & Tawse plc, and prior to that he spent over five years with Courage/Grand Met Brewing where he developed a new industrial relations strategy, radically improved customer service and oversaw the building of new facilities.
Richard worked in the oil industry between 1975 and 1987, holding roles with Total Oil GB and Air Total International in Paris.
At the start of his career he qualified as a British Airways pilot.
Richard was appointed CBE for services to logistics and transport in the 2004 New Year Honours.
– Ends –
Note to editors
The London Ambulance Service is the busiest ambulance service in the UK, caring for almost one and a half million patients every year.
We provide an emergency healthcare service for over seven and a half million people living in London, as well as visitors and commuters to the city.
As the only London-wide NHS trust, our service extends over an area of approximately 620 square miles, from Heathrow in the west to Upminster in the east, and from Enfield in the north to Purley in the south.
Richard Hunt took up his post on 1 July 2009 and will continue until 30 June 2013. He will be paid £20,896 a year. This appointment has been made in accordance with the Commissioner for Public Appointment's Code of Practice.
In accordance with the Nolan recommendations, there is a requirement for an appointee's political activity (if any declared) to be made public. Richard has not declared any political activity and he has no other ministerial appointments.
For more information, please contact the Communications Department on 020 7921 5113.