Award for 25 years of dedication
A paramedic has been recognised for dedicating a quarter of a century to saving lives.

Duty Station Officer John Gilburt, based at Edmonton, has worked for London Ambulance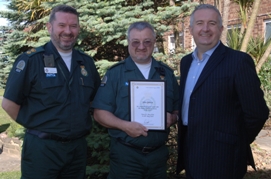 Service for half of his life.
John, who is now 50, left his job as a traffic warden to start his ambulance career transporting elderly patients to and from St Pancras Hospital, before working his way up to a paramedic, assistant station officer and now duty station officer.
He said: "I can't believe I have reached 25 years of service. I still considered myself a relative newcomer but now I realise I'm actually one of the older ones!"
John, from Leyton, was on duty on the day of the 7 July bombings and treated patients at Aldgate station and Russell Square. He said the Service has changed considerably over the years.
"The main thing is the standard of care we provide has got a lot better," he said. "The training is excellent and instead of just being like porters in emergency vehicles – as was the case 25 years ago – we are now considered proper health professionals and can really make a difference."
John has been heavily involved in staff support during his career and helped to set up a harassment support programme. He has also helped many staff through difficult times – spending five years volunteering for the Service's peer support scheme.
John was presented with his certificate by Edmonton Ambulance Operations Manager Gerard Murray and Acting Assistant Director of Operations for the East, Paul Gates.
Gerard said: "Twenty-five years of service in any organisation is a long time and something to be proud of. John is a credit to our ambulance service."
-ENDS-
Notes to editors:
For further information about the London Ambulance service, this news release, or a high resolution photograph, please contact the communications department on 020 7921 5113.