A ceremony was held to honour London Ambulance Service staff who have recently achieved 20 years' service.
Members of frontline and support staff attended the event in Westminster on 2 July for the presentation of their certificates and medals.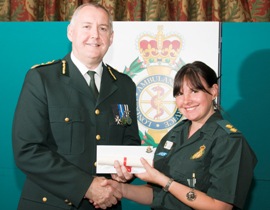 Ten frontline staff received The Queen's Ambulance Service Long Service and Good Conduct Medal and seven support staff received the London Ambulance Service Medallion.
Chief Executive Peter Bradley, who presented the awards, said: "Reaching 20 years is a fantastic achievement and shows the dedication and commitment of our staff. It is this dedication that makes us the Service we are today and I'm very proud of that."
Recipients of The Queen's Ambulance Service (emergency duties) Long Service and Good Conduct Medal
Michael Creegan, New Malden
Glenda Davies, Fulham
Mohamad Halawi, Islington
Leigh Hugo, Education and Development
Liam Kenny, Hanwell
Jennifer Maybridge-Edwards, Pinner
Anthony Pearson, Mill Hill
Deborah Pooley, St Helier
Mick Preedy, Friern Barnet
David Steel, Pinner
London Ambulance Service Medallion
Nicola Foad, Legal Services
Albert Jacobs, St Helier
Kenneth Lloyd, Greenwich
Valerie McKreath, Ilford Resources
Simon Parker, Fleet Services
David Rose, Barnehurst
Andrew Snowball, St John's Wood
-ENDS-
Notes to editors
For further information about the London Ambulance Service, this news release, or for a high resolution photo, please contact the communications department on 020 7921 5113.