Thousands watch ambulance service at Pride London
Around 15 members of staff joined the sixth annual Pride London march on Saturday (4 July).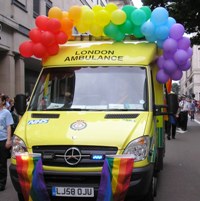 An ambulance decorated with brightly-coloured balloons was led through central London on the two-mile route.
Thousands of spectators lined the streets for the parade which began at Baker Street and finished at Trafalgar Square.
Senior Resource Coordinator Heidi Rapley said: "The crowd were fantastic and we were so well-received. It was the first year I've been involved and I can't wait for next year now."
– Ends –
Notes for editors
For more information please contact the Communications Department on 020 7921 5113.