Service staff step up to walking challenge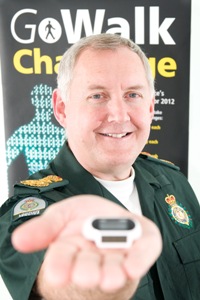 Staff taking part in a walking campaign clocked up a total of more than 60,000 miles during June – equal to walking twice around the Earth's surface!
More than 600 members of staff, from frontline to back office, put their best foot forward during the popular GoWalk challenge, which aimed to increase fitness levels ahead of the Olympic Games in 2012..
The competition saw teams compete to take the most steps, with some staff completing up to 30,000 a day.* Prizes for the top teams will be awarded at an event in August.
Each participant was given a free pedometer to measure their daily steps, and a variety of walking routes from different offices were made available. The local Ramblers' Association is also running a free 12-week walking programme from the Service's headquarters, involving lunchtime strolls and support and advice for all staff.
Anna Kilpin, from the Service's Games Planning team said: "The idea was a very simple one and I think that's why it has been so successful. We're delighted that so many staff have got involved from right across the organisation.
"Many teams surpassed the recommended steps per day, with others challenging themselves to get out and do more to increase their fitness levels.
"The Games will be the biggest challenge our organisation has faced and it's vital our staff lead by example by being fit and healthy."
The project was funded by a £5,000 grant from NHS London.
The Service has already started preparing for 2012 and has set up an Olympic Games Planning Office. Staff are involved in consulting on aspects of the design for the Olympic Park stadia and village, the transport plan, and security.
-Ends-
Notes to editors
For further information about the London Ambulance Service or this news release please contact the communications department on 020 7921 5113.
*10,000 steps per day is recommended by the British Heart Foundation.