London Ambulance Service hosts Blue Peter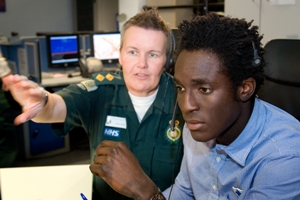 The London Ambulance Service's emergency operations centre will feature in an episode of Blue Peter today (19 May) at 4.35 pm.
A television crew from the popular BBC children's programme spent a day filming in the control room last month.
The programme will show youngsters what happens behind the scenes when somebody dials 999.
Broadcast on BBC 1, the short film will highlight the valuable work done by our emergency medical dispatchers who handle 999 calls and send an emergency response to patients. Viewers will see Blue Peter presenter Andy Akinwolere handling his own mock emergency call in the episode as he tries to get to grips with such a vital and important role in the Service.
Training Officer Jules Lockett was at Andy's side to give him an insight into how our staff are trained and to explain how 999 calls are categorised.
The episode will also feature Emergency Medical Dispatcher Rachel Taylor, Team Leader Brian Hayes and Clinical Support Desk Manager Stephen Hines.
-Ends-
Note to editors
For further information on the London Ambulance Service or this news release please contact the Communications Department on 020 7921 5113.