'Booze Bus' to continue permanently at weekends
An alternative transport vehicle set up by the London Ambulance Service to meet the demands of alcohol-related calls is to continue permanently at weekends.
The 'Booze Bus' was launched in 2005 but until now has only been used during periods of high demand, such as the run-up to Christmas and over the New Year.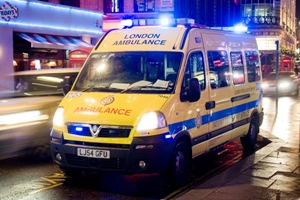 However, with alcohol-related 999 calls now totalling more than 61,000 a year, the Booze Bus has proved vital in easing demand on the Service at the busiest times of the week.
Team Leader Brian Hayes said: "By treating patients on the Booze Bus we save the same number of ambulance journeys and free them up to go to people with serious illness or injury.
"We are now busier than ever before and are dealing with up to 20 patients per shift."
The vehicle, crewed by three members of staff, can attend to people who are drunk and take a group of patients to hospital in one trip, rather than sending multiple ambulances.
It runs every Thursday, Friday and Saturday night between 7pm and 7am in the West End.
Brian continued: "We're not killjoys and we want people to enjoy themselves, but the 999 system should be used for emergencies only. There are always other options, such as NHS Direct, minor injuries units or NHS Walk-In centres or, if necessary, people can make their own way to hospital – going in an ambulance does not mean you will get seen any quicker."
-Ends-
Notes to editors:
For further information about this news release please contact the communications department on 020 7921 5113.
Watch our video filmed with the central London Booze Bus