Hillingdon paramedic recognised for 25 years' service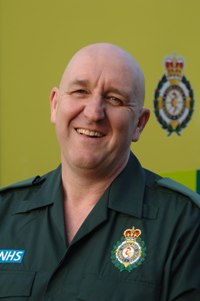 A Hillingdon paramedic is celebrating 25 years with the London Ambulance Service.
Nick Hill joined the Service in 1984 as a patient transport service 'grade three' ambulance person. He has been working as a paramedic in the borough for the past 20 years.
Nick, who is 48 years old, said: "25 years in any one job is not something you can ever imagine. I still look after my patients and that's the pleasure I get from the job 25 years on.
"The Service has changed a lot over the years, mainly in the last decade. It's a lot busier than it ever has been, but at the same time staff clinical training has progressed a huge amount and we are supported by lots of new technology such as the satellite navigation system in our vehicles."
Nick met his wife 22 years ago at Hillingdon hospital where she was working as a nurse and he would take patients to A&E. The couple now live in Slough with their two children. In his spare time Nick runs the ambulance service cricket team.
Hillingdon Ambulance Operations Manager Adam Crosby said: "Nick has been serving the community in the borough of Hillingdon for a very long time.
"He is an excellent paramedic and has continually kept pace with all the modern developments of pre-hospital care. When Nick first started the only medical equipment available to ambulance staff was a small satchel with some bandages in it. Nowadays he uses all the advanced technology available to him – such as using machines to diagnose heart attacks and administering life-saving drugs.
"Nick is a credit to the Service, the people of the borough and his own professionalism."
-Ends-
Notes to editors
For further information about the London Ambulance Service or this news release please contact the Communications Department on 020 7921 5113.