Long's Long Service
A Wembley man is celebrating 25 years with the London Ambulance Service.
Geoff Long, who lives in Midholm, joined the Service in 1984 as an ambulance driver. He soon moved to frontline duties, progressing through the ranks to the position of 'duty officer' taking on management responsibilities for ambulance stations.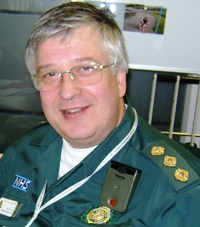 Geoff, who is 52 years old said: "What really inspired me was witnessing a car crash and watching the ambulance crew helping those who had been injured at the scene. I was doing my best to help and I remember one of the crew mentioned to me that I should think about joining."
Since 2000 Geoff has worked behind-the-scenes leading on emergency planning for many high profile events. Over the years these have included Live 8, the Queen's Golden Jubilee and sadly, the Queen Mother's funeral.
He said: "The most memorable of these was the Queen's Golden Jubilee. It was a huge celebration, but it needed a solid plan behind it. There were many groups working towards this planning – and I led the joint ambulance and hospitals' meeting.
"Our aim is always to ensure that with any big event like this, we minimise the impact on medical provision to the rest of London. So we need to ensure we have the right amount of staff working, that they are deployed in the right areas and that we co-ordinate with the hospitals, the police, local authorities and the fire brigade."
Geoff marked his quarter century on Thursday (12 March).
"It's a bit daunting knowing you have worked somewhere for 25 years," he said. "But I still enjoy my job. The Service has changed positively over the years and in the right direction."
-Ends-
Notes to editors:
For further information about the London Ambulance Service or this news release please contact the communications department on 020 7921 5113.