Newham duo celebrate 50 years of service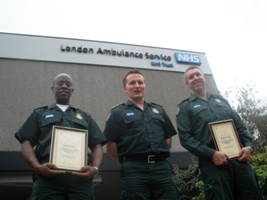 Two Newham ambulance staff are celebrating 50 years of serving the community.
Paramedic Tony Hookings, based at Newham ambulance station, and Emergency Care Practitioner Tony Allen, West Ham ambulance station, were recognised for 25 years of long service each at London Ambulance Service headquarters in Waterloo.
The two Tonys joined the ambulance service within two weeks of each other in February 1984, where they started work in Newham as patient transport workers.
Tony Hookings said: "I've spent all but one of my 25 years working in Newham and the best thing about the job is the people, the ones I work with and the ones I treat. There's a lot of character here."
Tony Allen said: "A lot's changed since I started working here, in Newham and in the way we treat patients. I qualified as an Emergency Care Practitioner two years ago, which means I'm now delivering a diverse variety of healthcare to patients that I wouldn't have dreamed of doing when I first started."
Assistant Director of Operations Jason Killens, who officially recognised the staff, said: "Tony and Tony are an excellent example of the diligence and dedication of our staff. It's very important we recognise these milestones because staff are in the community saving lives and treating patients in what are often difficult and sensitive situations."
– Ends –
Notes to editors:
For further information about the London Ambulance Service or this news release please contact the communications department on 020 7921 5113.