New ambulance operations manager for Ealing
A new ambulance operations manager has been appointed for the borough of Ealing.
Pauline Cranmer, aged 36, will be responsible for the delivery of ambulance services to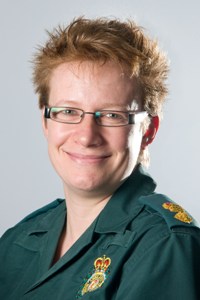 patients in the borough.
Ms Cranmer, who has been with the Service for 15 years, will be based at Hanwell station on Boston Road and also manage staff at stations in Chiswick and Greenford.
She will be supported by a management team comprising duty station officers, a training officer and team leaders.
Ms Cranmer said: "Ealing is a hugely diverse area and I enjoy working with all sections of the local community. There's a lot of change planned for the ambulance service over the next 18 months. We're recruiting hundreds of new staff to our three-year student paramedic programme* and are seeking the views of the public to help shape our future through a major consultation on becoming a Foundation Trust.
"My top priority is to deliver high quality patient care to the people of Ealing. I've already begun engaging with the local community as well as the hospital, the primary care trust and other emergency services to find out what the community needs and how we can improve."
Ambulance staff in the area have responded to 35,202 incidents during the first 11 months of the 2008/09 financial year, an increase of 2.2 per cent on the same period in 2007/08.
Pauline said: "We've been extremely busy over the last year and I would urge those people who are not seriously ill or injured to use their ambulance service wisely and consider other ways of getting help before dialling 999. This can include looking after themselves at home, calling NHS Direct on 0845 4647, or even making their own way to hospital, as arriving in an ambulance does not mean that they will be seen more quickly."
-Ends-
Note to editors:
For further information on the London Ambulance Service or this news release please contact the Communications Department on 020 7921 5113.
A high resolution image is available on request.
*Student paramedic information:
The new student paramedic role has been introduced as part of the Service's long-term strategy of increasing frontline staff numbers by almost a fifth to 3,150 by 2013.
Successful candidates are offered a three-year training contract, during which they will undergo a planned programme of training which will have a defined progression pathway towards qualification as a paramedic.
In year one, successful candidates receive £20,241 rising to £24,486 following completion of a 20-week training course. In year two they will be paid £26,119, rising to £27,743 in the third year and £28,542 on qualification as a paramedic.
Applicants must have held a full driving licence for two years.