Stroke campaign launched at London Ambulance Service headquarters
The London Ambulance Service has hosted the launch of a national stroke awareness campaign which aims to educate people about the symptoms of stroke.
Chief Executive Peter Bradley welcomed Secretary of State for Health Alan Johnson to the Service's headquarters in Waterloo, to help promote the three-year Department of Health drive.
Stroke is a loss of brain function due to a clot or bleed in the brain, and is the third leading cause of death and the single largest cause of adult disability in England. 
The Department of Health campaign centres on the FAST test. Standing for Face, Arms, Speech, Time to call 999, it is designed to help people identify a stroke quickly, with speedy action often improving the chances of recovery. Also known as brain attacks, strokes affect 110,000 in Britain every year.
Clinical Practice Managers Jane Worthington and Mark Whitbread were on hand to take Mr Johnson through the FAST test, before the government minister spoke to the media.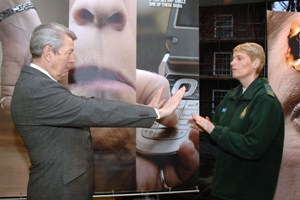 Jane said: "It is vital that people can recognise the signs of a stroke because the quicker you act the more chance there is of recovery. The FAST test is very simple and very easy to remember so it can act as a great tool for everyone.
"Hopefully this campaign will help the public identify the symptoms of stroke and make people aware that it needs to be treated as an emergency."
-Ends-
Notes to editors
For further information about the London Ambulance Service or this news release please contact the Communications Department on 020 7921 5113. Find out more information about the FAST campaign.
For high resolution photographs contact the Communications Department.