Heart attack cabbie meets the people who saved his life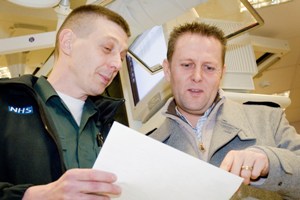 A London cabbie has been reunited with the ambulance and hospital staff who saved him from a life-threatening heart attack.
Mark Hollet, 40, had just dropped off a fare from his black cab one evening in December when he began to experience severe chest pain and dialled 999 for an ambulance.
Paramedic Team Leader Tony Olma was on the scene in four minutes in a fast response car. Emergency Medical Technician Martin Lewis and A&E Support Aamir Beg followed soon after in an ambulance. Paramedic Team Leader Jacqui Ault also attended.
Martin said: "When we arrived Mark was experiencing severe central chest pain radiating down his left arm, the symptoms of a heart attack.
"Using equipment on the ambulance we confirmed that his artery was blocked, but then Mark suffered a cardiac arrest, his heart stopped beating and he was clinically dead. We used a defibrillator (a machine used to restart a patient's heart by shocking it with electricity) to shock his heart and bring him back to life."
"We then took Mark directly to the London Chest Hospital, Bethnal Green, one of the eight specialist heart attack centres in the capital, where we knew he would receive the best possible level of care."
Adam Timmis Professor of Clinical Cardiology at the London Chest Hospital said:"As well as improved mortality rates our Centre is also achieving far better discharge times with patients often being able to return home after just 48 hours compared with the 8-10 days they faced with traditional treatments. This was certainly the case for Mr Hollet and the hospital team who treated him are happy to see that he is recovering well.
Mark said: "It's great to meet up with the people who came together to save my life and I can't thank them all enough.
"I can remember everything except when I was in cardiac arrest. It was like someone had switched me off and then back on again. I can't believe how quickly I was discharged from hospital, I thought after suffering a heart attack I'd be in there for weeks. I've now been passed medically fit enough to go back to work again."
The reunion follows the release of the Service's ST-Elevation Myocardial Infarction (STEMI) Annual Report (a STEMI is a common type of heart attack).  Once diagnosed by London Ambulance staff, STEMI patients are taken directly to specialist heart attack centres for a pioneering emergency operation called primary angioplasty.
Clinical Practice Manager Mark Whitbread said: "Mark Hollet is one of many patients who benefit from ambulance crews' ability to diagnose heart attacks and take patients straight to a specialist centre for definitive treatment.
"This sometimes means bypassing local A&E departments and slightly longer ambulance journey times, but it means patients receive the best possible level of care and are discharged in less time."
Professor Adam Timmis said: "Here at the London Chest Hospital, Britain's biggest heart attack centre, we continue to provide expert cardiac care which is reducing the number of deaths amongst heart attack patients. Patients are certainly benefiting from our partnership with the London Ambulance Service."
Summary of figures from the STEMI Annual Report 2007/08 – authors Gurkamal Virdi and Yvette Thomas
The average age of STEMI patients was 62-years-old.
Male STEMI patients were on average 14 years younger than female patients.
STEMIs occurred most frequently on a Sunday.
The average response time to STEMI patients was seven minutes.
Journey times for patients taken directly to a specialist centre were, on average, only two minutes longer than the journey times to A&E.
96 per cent of STEMI patients were discharged from hospital alive.
-Ends-
Notes to editors
For further information about the London Ambulance Service or this news release please contact the Communications Department on 020 7921 5113.
Angioplasty is a procedure where a catheter is inserted into the blocked artery and a small balloon is inflated to restore blood flow to the heart. It is successful 95 per cent of the time.
Outside of London, the typical emergency treatment for heart attacks is the administration of a thrombolytic (clot-busting) drug.  However, thrombolysis has only a 60-70 per cent success rate and the rate of patients who suffer a further clot (heart attack) is high as are the risks of serious bleeding and stroke.
The  Service has helped set up a network of eight hospitals where heart attack patients can be taken directly for primary angioplasty 24/7, bypassing A&E departments and offering the best chances of survival and speedy recovery.