Pressure on ambulance service continues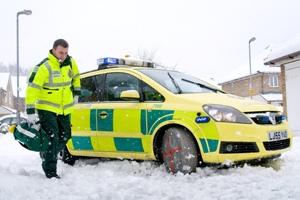 Londoners are being asked to continue to use their ambulance service wisely and take extra care in today's icy conditions.
The London Ambulance Service received more than 5,000 calls yesterday – compared to around 3,500 on a normal day – with a large number categorised as being life-threatening.
Acting Deputy Director of Operations Richard Webber said: "We have been extremely busy dealing with a full range of calls including slips, trips and falls.
"Staff have made a tremendous effort to get to work but the difficult driving conditions are making life much more difficult for us.
"I would urge Londoners to use their ambulance service wisely and only dial 999 in the event of a life-threatening emergency."
Severe pressure meant that the Service only responded to life-threatening emergencies for a period yesterday, but normal service was resumed at 9pm last night.
Those people whose call is not an emergency should consider other healthcare options, including self-care at home and calling NHS Direct on 0845 4647, rather than dialling 999.
Note to editors
For further information on the London Ambulance Service or this news release please contact the Communications Department on 020 7921 5113.