Crash victim meets ambulance man who changed her life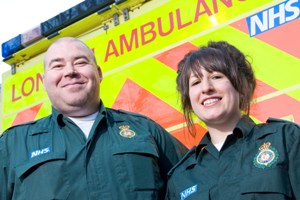 A woman who was injured in a car crash has been reunited with the crew who treated her – and influenced her to become a paramedic.
Samantha Klasinski, now 21, wanted to thank Emergency Medical Technician Richard Maxon, who treated her in February 2007.
Samantha, of Baker Road, Greenwich, was driving on the M4 motorway at 60mph when the motorist in front braked and she went crashing into the back of the car. She suffered a broken nose and foot and bad bruising and was taken to Hillingdon Hospital.
The treatment she received on that day changed Samantha's life and she decided that she wanted to become a paramedic and help others, like she had been helped.
She said: "The accident was quite terrifying and when the crew arrived they were so reassuring and funny and they were making me laugh. The whole experience was not a good one and those few minutes I had in the ambulance really stuck in my mind – the crew really inspired me.
"I am absolutely loving the training so far and it was even worth having the car crash to make me realise what I really wanted to do!"
Samantha was studying a nutrition and health degree at the time, but enrolled on the Service's student paramedic three-year course when she finished her degree. She is now studying in Bromley and will soon be working out of Oval Ambulance Station.
She met Richard to thank him for what he did. Richard, 32, of Hamilton Road, Watford, said: "I remember being surprised that Samantha had escaped the crash with only the injuries she had – she was very lucky. I was just doing my job, but it's great to discover that it had such an influence on her decision to become a paramedic."
-Ends-
Notes to editors
For further information about the London Ambulance Service or this news release please contact the Communications Department on 020 7921 5113.
For a high resolution photograph contact the Communications Department.