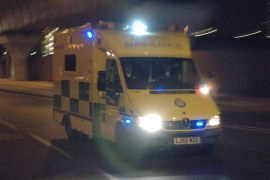 Londoners are being urged to use their ambulance service wisely after the busiest week in its history.
Ambulance staff responded to 20,939 emergency incidents across the capital in the seven days up to last Sunday (14 December) – an increase of nearly eight per cent on the average of the previous four weeks.
The pressure has been compounded by high percentages of calls initially treated as being Category A (immediately life threatening), and delays caused to staff at hospitals while waiting to hand over patients.
As a result of these ongoing issues, the Service today raised the declared pressure level at which it is operating from 'severe pressure' to 'critical' – the first time that it has reached this level since the capacity levels were introduced in late 2005.
Director of Operations Martin Flaherty said: "Despite the current levels of demand, we are continuing to reach more patients, more quickly than ever before, so people should be reassured that we are maintaining a safe and effective service.
"What it has meant, though, is that we are coming under increasing pressure in the run up to what was already set to be one of our busiest times of the year.
"We are working closely with NHS London, primary care trusts and hospitals to resolve issues around delays we have been experiencing in a number of areas while waiting to be able to hand patients into the care of hospital staff.
"As ever, we would urge anyone who is not seriously ill or injured to consider other ways of getting help before dialling 999. This can include looking after themselves at home, calling NHS Direct on 0845 4647, or even making their own way to hospital, as arriving in an ambulance does not mean that they will be seen more quickly."
-Ends-
For further information about this news release please contact the Communications Department on 020 7921 5113.