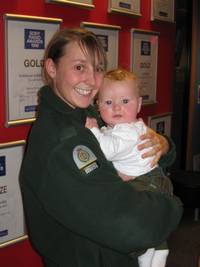 A London Ambulance Service 999 call-taker has been named a finalist for this year's NHS Champions awards.
The awards, run by The King's Fund, recognise the contribution of NHS staff to celebrate the 60th anniversary of the NHS.
As an Emergency Medical Dispatcher Katie Vallis answers 999 calls in the Service's control room at Waterloo and was on shift when Leo Hickman's wife went into labour at home. Single-handedly Katie calmly talked Leo through the safe delivery of their son, Jacob.
The 11 minutes that Katie was on the phone to Leo proved to be life-changing for both of them. With no-one to rely on but Katie at the end of the phone, Leo had to put all his trust in her. The life of his unborn baby son would depend on Katie's words and the instructions she would give.
Having ascertained that Leo's wife was in the advanced stages of labour, Katie talked him through, step by step, how to help his wife and a matter of minutes later, how to deliver his third child.
Katie advised Leo to make sure his wife was in a comfortable position, with blankets and clean towels at-the-ready. She calmly talked him through applying pressure to stop the baby being born too quickly and how to hold him safely and firmly as he was born. Katie remained calm and supportive during the highly emotional experience and reassured Leo as he began to get frightened when his son didn't start to cry when he was born.
Just as their son arrived, so did the paramedics, who checked over mother and baby. Katie ended the call and carried on with her shift, answering emergency calls.
The NHS Champions award will be announced at a ceremony in Islington on Thursday 11 December. Two other members of staff – Romford Ambulance Operations Manager Steve Colhoun and Waterloo motorcycle paramedic Rob Bentley, are also in the finals.
Leo Hickman, who nominated Katie for the award said: "My wife Jane and I will never forget Katie's professionalism and calmness on the day she helped us to deliver our son Jacob at home. To think it was the first BBA (birth before arrival) she had ever had to deal with since her training is truly amazing and a real credit to both her and those who trained her. I hate to think what kind of state I would have been in if Katie hadn't been at the end of the phone explaining to me in a patient and authoritative tone exactly what to do. What a star and what a credit to the NHS."
After more than a year-and-a-half working in the control room, Katie is now working towards fulfilling the ambition she had when she started with the Service – to treat patients on the frontline.
Katie has done this by recently moving into the role of student paramedic, a position which means that after three years of training both in the classroom and on the road, and successful completion of assessments, she will realise her ambition of becoming a fully-qualified paramedic.
– Ends –
Notes to editors: 
For further information about the London Ambulance Service, this news release or high resolution images, please contact the communications department on 020 7921 5113.