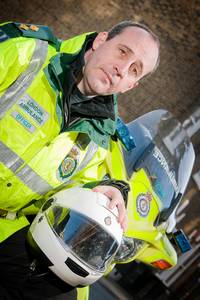 Paramedics' motorcycle crash helmets are increasingly becoming the victim of theft and vandalism in London.
On four occasions in the last month, ambulance bikers were left unable to respond to 999 calls for up to four hours after their helmets were stolen or damaged while they were treating patients.
In one example, Paramedic Joe Phillips' helmet was taken while he was treating a baby at an address in Islington. Joe said: "When I came out of the house a teenager was wearing my helmet. When he saw me he laughed and ran away. I reported it to the police, but the most annoying thing was that I wasn't able to respond to 999 calls until I got a replacement a few hours later."
In Lisson Grove, Paramedic Jim Marr returned to his bike after a treating a man with a serious head injury, to find his helmet mindlessly thrown over a fence and cracked. He was unable to respond to 999 calls for three hours while arranging a replacement and speaking to police.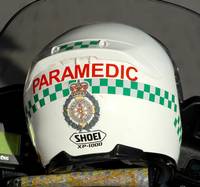 Motorcycle Response Coordinator Shaun Rock said: "As a motorcycle paramedic you're there to get to the patients in the most serious condition first and begin assessing them. For the most part people respect our equipment, but recently our helmets have been stolen or wilfully damaged while we're treating patients.
"This is unacceptable for two reasons. Firstly, it means our staff are not able to respond to patients in a life-threatening condition while they wait for a replacement. Secondly, it costs £600 to replace the helmets because they are custom-fitted with radio equipment.
"The radio equipment only works with our ambulance radios, so they are useless when not used with the bikes. I urge the people doing this to respect the work of ambulance staff and keep your hands off our helmets."
– Ends –
Notes to editors:
For further information about the London Ambulance Service or this news release, including high resolution images, please contact the communications department on 020 7921 5113.
The Motorcycle Response Unit (MRU) responds to emergency 999 calls in central and east London every day from 7.00am to 11.00pm.
All MRU paramedics have taken a course in police motorcycle-driver training.
The Service has been operating a MRU in central London, out of Waterloo ambulance station, since 1991.